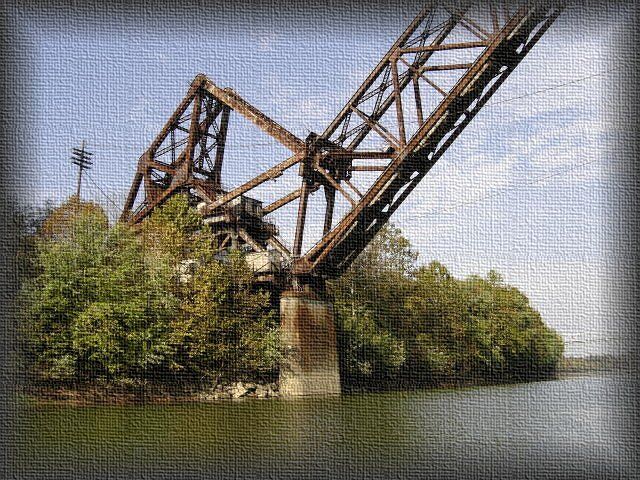 This Old Railroad Bridge is looking old and it should. It has been around for more than a half century. Many a train has crossed the river on this old bridge. The picture above is looking toward the Muhlenberg County side and the bridge is in the raised position. This operation is remotely controlled now and during periods of barge traffic, it is kept up until a train approaches. Then from a central control office a button is pushed and the bridge lowers, locks in position and signals the approaching train that it is safe to cross. Other than this feature and the bridge needing a good paint job, it is as I remember when, as a lad, we would swim in the river and play on the bridge. This was our playground.......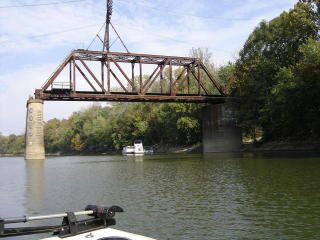 This picture is of the same bridge and of the same time frame. It is a view looking toward the Ohio County side of the river. It is still an old bridge and needs painting. This view shows two piers while the previous view showed the one pier on the Muhlenberg County side. Does any question enter your mind while viewing the piers? One does mine. The middle pier supports two spans and the Muhlenberg County pier supports the one span and the mechanism and heavier bridge section, while the Ohio County pier does not seem to support near the weight and it is a larger pier. Notice how much larger the Ohio County Side pier is in comparison to the others. I have always wondered why this pier was not only larger, but also round. The other two piers are more oval in shape. Well, stay tuned. I think that I finally found out the reason.....
---
Swinging Bridge Over Green River!
Well good, you say.
What does this bridge have to do with Rockport?
Look Closely-It is Rockport!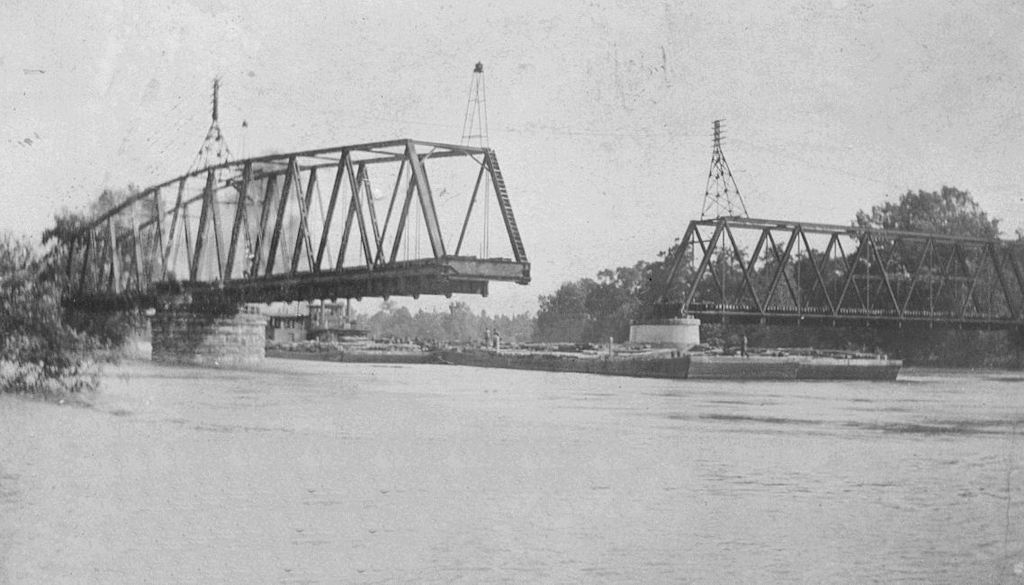 Rockport Railroad Turn Table Bridge! Well, I never heard. View is looking upriver and it appears to be during a flood period. The water is high and surrounds the pier that is supporting the "Swinging" section. A tug with several barges seems to be passing between piers. The tug is a larger tug than what we used to see and appears to be pushing six barges. Don't ever remember seeing six barges in tow, but they were probably smaller then, than those today. Great job of the photographer and someone has marked the picture to indicate that it was taken before 1932. Thanks to Hilma for the picture.


---



Another picture of the Rockport "Swinging Bridge".
Again thanks to Hilma.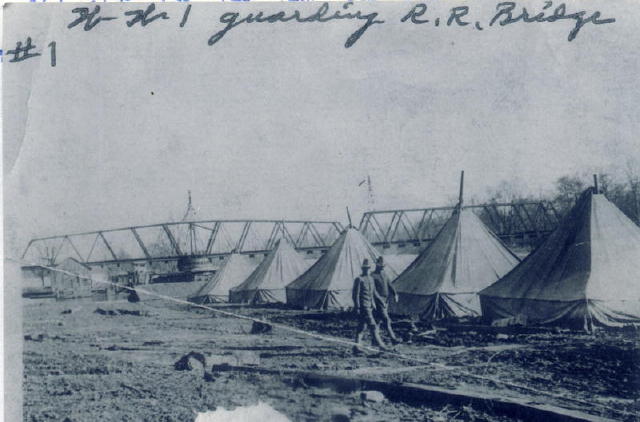 As you can see, someone has ID'ed this picture and have indicated that it was being guarded by soldiers during World War I. If you will think back, there is an old road that runs along the "High Bank" of the river and runs from the Highway Bridge to the Railroad Bridge, crossing under the Railroad Bridge and connecting to Old Highway 62. This military encampment appears to be on this river side of the old road. I just never knew, nor to my knowledge was I ever told of a "Swinging Bridge" nor of the bridge being "Guarded" during World War I.

Again, if you have reached this point, thanks for looking. Please feel free to inform me if you do not want this sort of information on the Rockport/Echols Web Site. Otherwise, hope this small message was worth your time and effort and that you felt some enjoyment as well. To be informed of a period of time, that most of us were not yet on this earth, is more easily done when old pictures are available. Thanks to Hilma for providing the old pictures. I think that the pictures originally came from the George Boyd Collection. Thanks George. You made a step back in time seem possible.



---



4/12/08. This stat and web page has been modified and altered several times. Hopefully, there has been an improvement each time. That original was a stat that I used as an e-mail and then I incorporated it into a web page. Now, I have altered it once more. I was able to obtain better pictures. Ray McClain called me a week or so back and said that he had some pictures that I might be interested in and he would be glad to drop them off at my house. I certainly did not want to slow him. The pictures that I originally used had been copied, recopied and e-mailed a time or two and were beginning to show the effect of too many transfers. The ones that Ray provided were copies of the original and a tad more clearer. Always glad to receive updates. Thanks for looking.

See you......
jrd
---
Web Page by jrd on 5/7/06.
Click on Image to reply.