Bill's Place!
Mid Twentieth Century.


Jerry and Dotty, with the help of others, have combined their memories and have come up with the following bits of information. A response back to us with pertinent information on this subject would be appreciated.


Stationery by j r durham in the year of 2005. Modified in 2006.


Rockport Post Office Building!
The Old Building Has Seen Many Changes.

BR>

Greetings and a special hello to all. A week or so back I sent out some "Challenge" questions, encouraging all to do some thinking and answer a few questions concerning the past history of what is now the Rockport Post Office building. Surprise, I got a few responses back. Thanks all, for your responses. It is, indeed, appreciated. What would I ever do without some type of feedback? Anyway, I have used the responses and with the help of my wife, have come up with another stat. Guess now, it is my time to shine. Well, for what it is worth, here it is!!!!!!!

The responses that I received indicates that I have very limited knowledge on the history of the old building that is now the Rockport Post Office. I guess that it would be best for me to tell you what I think and then to tell you what you, as readers, think. What do I know and what do I remember about "Bill's Place"? Now much, really. I was a teenager in the early fifties and that time frame is about all that I can expound on. I left Rockport in 1956 and did not move back until 1966 and thus, I missed out on a lot of events of the old "Bill's Place" building. I did try to visit as often as possible and remember some fond times with Bill in his place of business.

For starters, the MIDI File that I used has been correctly identified, by some, as "The Green Door". Why, did I use that particular tune? Well, in a period of about a month in the year of 1956, "The Green Door" was the number one song in America. Now, for you that can remember, think back to the year of 1956. The building in question was a concrete block building, at this time, and was painted green. The door to the building was green and it just seemed to me that the song was written about this particular place. What is behind the Green Door? Bill Tooley and I just seemed to have a thing about the number one song and he and I both just love to hear that music. During the week, if I had a date, I would be on the way back home by 10:30 and always tried to drop in and see Bill before I went home. I may not have had enough money for a soft drink, but had enough to play "The Green Door" before I went home. If I did not play the tune, Bill would. Thus, "The Green Door". Now, more than fifty years later, if I hear "The Green Door", my thoughts return to Rockport and Bill Tooley. Also, this old building has seen a lot and some of what went on behind the Green Door stayed behind the Green Door.

Now, what is fact and what is fiction depends on the knowledge of the reader. I remember one way and others remember another way. I will give information on what others have stated to me in the next section. For now, it is the way that I remember. So, here goes.

Bill Tooley had a building built for a place of business in the late forties, early fifties. This simple structure was made of concrete blocks and was originally painted green. Bill and Irene Tooley opened a restaurant there and ran it for several years. They, along with their children, lived behind the place of business in a white frame house. They had a son named Larry and a daughter named Jane.

In this time frame, Bill was certified to be a teacher and he taught at Rockport for the school year of 1956. In the meantime, he and his wife were trying to keep a restaurant going. I am thinking that they ran the restaurant from the late forties until the mid fifties. Some trouble here and Bill allowed others to operate a restaurant in this location. Lake Saling's may have been next and he leased, at least part of the building, and tried for a short period of time. David and Evelyn Heltsley tried their luck for a year or so. I can remember the restaurant being called "The Green Lantern" and most of the people that replied give David Heltsley credit for that name. It does sound just like David. Now, we have reached the early sixties and am thinking that Cora Mae and Bowser Brown tried their luck. Do remember Mr. & Mrs. Delbert Brown living in a part of the building. Then somewhere around the mid or early sixties Thomas and Dorothy Harris took over and were making a goal of it until they had problems. I am sure that I have left out a few and I have not listed some of the people that ran a grocery and sold gasoline. I don't remember this part, but some repliers are certain that this was the case.

AS for living on the premises, is concerned, there were a few that did such. One advantage of operating a place of business, was an extra bedroom in the building. It was a long room that could have been used as a bedroom and a living room combined. Think that Bill, Cora Mae and Bowser, Lake, and others took advantage of the extra room that was attached to the store.

This for the most part is what I remember. Now, some of what others have told me.





Some customers of Bill and Irene Tooley.
Who is the loner on the left?
Why won't the "Rockport Local Girls" play with her? Hum.
Bonus Prize to anyone who can name all the "Rockport Girls"!




Did Adral and Irene Shaw ever operate a restaurant in this building? Several people have told me that they started out in the restaurant business at this location and that all lived in the back part of the store. Most had the time frame as late forties. That could not have been though, as Kandi Kay was not born in the late forties. Eunice and Kandi were both raised in the old bank building. I just do not ever remember the Shaw's being in the restaurant anyplace except the old bank building. Now, I have been told that Adral and Irene started out in a small restaurant that was located between the old post office building and the hotel. That lot now, like most others, is vacant.

Was this place ever used for a grocery, or a place to buy gas? I don't remember it ever being used as a grocery store nor do I ever remember any gas pumps being located on the premises. I will not deny this, near fact, as it has come from one that not only remembers, but she actually worked in the store part. Probably in the early sixties, a Mr. Turley ran a grocery store and had gas pumps for the purchase of gasoline. Others have told me they remember Mr. Turley and his grocery and with the gas pumps. I can vaguely remember a Mr. Turley and a small store. My input would be that his store was on the other side of the white house from "Bill's Place". Probably wrong here, as the old brain cells are getting fewer by the day.

Several people have reminded me that Lake Saling had a restaurant in a part of the store. Entry was from the Highway 62 side. I vaguely remember Lake, but don't remember him staying but for just a few months.

10/18/07
Jack Fulkerson, a one time Rockport resident, was nice enough to share the following information.

I can remember when Bill Tooley had the restaurant and later it was a grocery store (1957-1959) and had gas pumps. We moved from Rockport in 1959. The back room of the building facing old 62 was also a restaurant. One person who ran the restaurant was my brother Fay and his wife Anna. It was called the Y'all Come Back Cafe. WOW I can still remember spending time in the place and Anna making me hamburgers.

Thanks for your input, Jack.

1/8/08
Gary Durham, was born and raised in Rockport, near "The Green Lantern", and has sent some information that he is willing to share.

Jerry I can assure you that Deni and Adrial Shaw did run the Green Lantern. I use to go there and the hamburger cost 25 cents and for a nickel more you could get cheese on it. They did live in the back for a time. I remember seeing the door open and couchís and beds were there. The front was the restaurant and the back was the living quarters. When I was around 12 (40 years ago) I use to play the 2 pin ball machine that were in the corner closest to James Barnes station. Dad had warned me not to waste my money on the pin ball machines and caught me playing it one afternoon. He marched me out of the side door next to Hwy 62 and right on home, I donít think they ran it over 5 years but they did run it before it became a Post Office.

Thanks for the preceding paragraph, Gary.

With my memory and some advice from others, I would place Cora Mae and Bowser Brown in the store in the late fifties or early sixties. They lived in Bill's old house for awhile and later moved into the store. They ran the restaurant for a few years.

Enter Thomas and Dorothy Harris. When we came back from Paducah in the mid to late sixties, Thomas and Dorothy had the restaurant in operation. This would place the building in operation up to about the early seventies.

James Haynes purchased the place from Bill or others in about this time frame and remodeled it. Think that he put on a new roof and maybe did the brick work. It was then leased to the Post Office and has been in use up until now.




Now this is an interesting group of Rockport Ladies.
Some more of Bill's Customers in the early fifties and probably 1952.
Hey, looks this bunch over! One of them may be a him.
No bonus prize here as most all can name these Rockport Residents.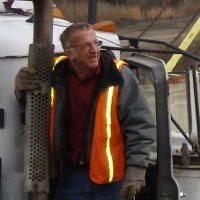 Easy Question-Name this Rockport Citizen?

The J. R. Durham's

Thanks for looking and thanks for reading. Hope you got some enjoyment and that you can remember some good times of the past.

See you....
jrd