Click to play music.
Rockport Heroes
Vietnam War Veteran Series
A jrd Stat on 6/23/17.
William Claude "Billy" Brown
U. S. Army: March 1971 to March 1973.
Hornorably Discharged.
---
---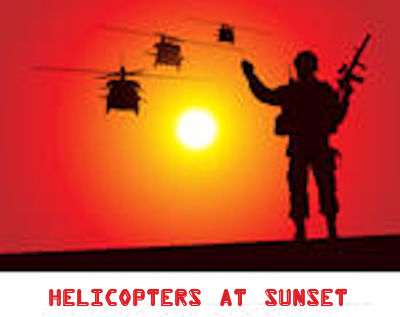 ---
Billy Brown-Soldier.
William Claude Brown was the youngest of six children of Delbert "Bowser" and Cora May Brown. He was born and raised in Rockport, KY in the fifties where it seems like the era of what Norman Rockwell had depicted many times over in his paintings. It was just a small town with the Green River and fields and woods to roam and play while growing up. At that, a war was in progress on the other side of the world. After William "Billy" had finished high school, it was time for him to serve his country. He was drafted in the Army in March of 1971 and sent to Fort Knox for basic training. After basic training, he was sent to Fort Rucker in Alabama for his "Advanced Infantry Training" that consisted of the basics of "Attack Helicopter" maintenance. Billy passed the six month training course and graduated as an attack helicopter repairman. Of course, he was needed where attack helicopters are present and most of them were in Vietnam.

The Army is especially good at placing a soldier on a job that the soldier can do well and hopefully enjoy what he is doing. The Army also tries to get maximum efficiency out of each soldier, even cross training or teaching them to do other similar jobs. One of those other jobs that Billy was taught was to be a Helicopter Door Gunner. That is the position of sitting in an open door of a moving helicopter, strapped in with a safety harness and holding a machine gun in such a manner as to be able to cover a portion of the ground as the helicopter is flying at tree or near tree level from one location to another. The enemy that is caught unprotected as an armed helicopter flies over is in imminent danger.

After graduating from AIT School, Billy was sent to Company B, 227th Attack Helicopter Base in Plei Ku Vietnam. Plei Ku was not the Northern most Base nor a "Forward Observation Post", but it was so near the North Vietnam border that very little Helicopter gas was used in getting to North Vietnam. Although the Plei Ku base was considered a temporary base, the living arrangements, sleeping and eating, were made of mortar and bricks and the eating and sleeping was not in tents. The base was without air conditioning. Billy served 11 months of his duty at Plei Ku and was sent to Fort Riley, Kansas for his last few months in service. At Fort Riley, he worked as a Helicopter Air Traffic Controller in helping train the helicopter pilots prior to them being shipped to Vietnam.

When drafted, Billy was married. After he was sent to AIT school in Fort Rucker, Alabama it was assumed that he would be sent to Vietnam. Billy's brother, Bucky had been in the Army for several years and had already served one tour in Vietnam, but he volunteered to be sent to Viet Nam in place of Billy. By then the wheels were in motion and guess once rolling, it takes time to get them stopped. Yes, Billy was sent to Vietnam and just a few weeks later, Bucky was also sent. It did not seem fair that two brothers should be serving in Viet Nam at the same time, but most all agree that sometimes life is not fair. Bucky and Billy's mother, Cora May, started a campaign to get one of both back home and was eventually successful, but not before Billy served almost a year in that war torn country. Finally going all of the way to the top of he ladder, Cora May corresponded with the then president, Richard M. Nixon and after many letter exchanges, and almost a year later, Bill was sent back stateside.

At Fort Riley, Kansas Billy served out his active two year term and was honorably discharged on March of 1973 and sent back to Rockport. He and his wife settled in Rockport where they raised a family. He became a Cable Vision Repairman working that job for several years. Today, Billy is retired and he and his wife are enjoying small town life in Rockport.

A big thanks to you Billy for honorably serving our country when called.
----------------------------------------------
See you.......
jrd
---------------------------------------------------
There are only 10 types of people in the world:
Those who understand binary, and those who don't.